Okay, so for those of you who are new to this meme, here's how it works:
Teaser Tuesdays is a weekly bookish meme, hosted by MizB of A Daily Rhythm. Anyone can play along! Just do the following:
• Share two (2) "teaser" sentences from somewhere on that page
• BE CAREFUL NOT TO INCLUDE SPOILERS! (make sure that what you share doesn't give too much away! You don't want to ruin the book for others!)
• Share the title & author, too, so that other TT participants can add the book to their TBR Lists if they like your teasers!
Synopsis (from Goodreads):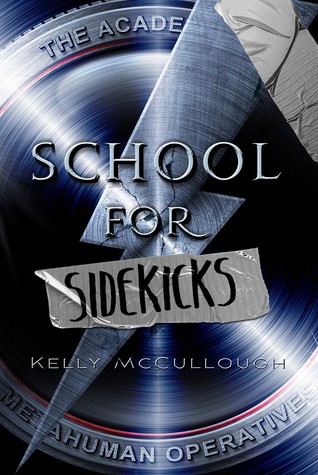 Being a hero isn't always what it's cracked up to be in this funny and genuine novel from adult fantasy author Kelly McCullough.
Evan Quick is a GIANT superhero geek who dreams of one day becoming a superhero himself. Every morning he checks to see if he's developed his powers overnight, and every day there's nothing. No flying, no super strength, no invulnerability—that always hurts to check—no telepathy, no magic. Not even the ability to turn off the alarm clock without smacking the switch.
But then Evan somehow manages to survive a supervillian's death ray, and is sent to the Academy for Metahuman Operatives. Unfortunately, his new school is not what he expected, and instead of fighting bad guys, Evan finds himself blacklisted, and on the wrong side of the school's director. If Evan ever wants to realize his dream, he must convince his "mentor" Foxman, a semi-retired has-been, to become a real hero once again.
(336 pages)
Here's this week's teaser, from page 54 of the Amazon Look Inside feature (because I'm not supposed to quote ARCs):
"He's one of us, then?" The Captain again. "Metahuman?"
"No doubt of that," she continued. "Our boy Evan is well on his way to wearing a mask."
Let me know what you think of the book, and check back on Friday for my ARC review!