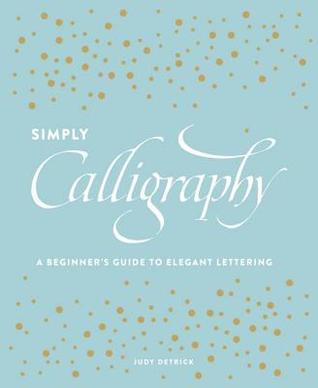 Click to view
on Goodreads
With the rise of do-it-yourselfers, there is growing demand for a calligraphy guide that is much simpler than what's currently on the market. This book answers that call, with a focus on only the popular Italic alphabet rather than the scads normally covered by other books (Gothic, Uncials, Half-uncials, and so on). After learning the basic letters, this book presents an open invitation--and a bit of inspiration--to make calligraphy one's own with creative flourishes for every project and occasion. With a modern two-color design and simple explanatory text, Simply Calligraphy's unintimidating approach proves that calligraphy is as easy as picking up pen and paper.
(96 pages)

I have a huge confession to make: I didn't actually use this book to learn calligraphy.

You see, when I actually sat down to start trying out the lessons, I discovered that the ink in my calligraphy pen (bought on a whim several years ago, and left abandoned under my dresser for two whole years) was entirely dried out. I tried to resuscitate it with a jar of red ink, but all I got for my troubles was a mess of crumpled red paper towels, a near heart attack when I almost stained the carpet, red fingers that looked like I'd gotten the worst nail polish job ever, and some concerned questions from my sister after she found my seemingly bloody paper towels in the bathroom trash can.

Oh, yeah, and I also got about twenty seconds of globby red ink coming out of the calligraphy pen. Not enough to actually learn to write with, and too messy to make dipping and writing a feasible option for this (rather clumsy) beginner.

So yeah, I feel absolutely terrible but I wasn't able to test this book out the way I'd thought I would. Instead I just read through it, and - for what it's worth - I can say that to the naked eye it looks like a good book for learning calligraphy. You learn lower case first, and then upper, and then numbers, and then fancy decorations (or "flourishes"); the characters in each category are grouped according to the motions you use to make them, instead of just by their order in the alphabet, and little numbered arrows are written in next to the characters to show you what motions to make when writing them. I could totally see how focusing on just one page at a time and moving steadily through the book would be a great way to learn all of calligraphy. I don't know that I'm really the sort of patient person who would settle down to do all of the practicing I can see now that it would entail, but I can definitely enjoy looking at the finished product!

I can't vouch very well for the quality of the book, both because I didn't actually follow its instructions and because I've never read any other book on the topic that I could compare it to, but to me at least it seems like a good starting point for a beginner who wants to learn calligraphy. If any of you know anything about calligraphy, have you tried this book? Do you like it? I'm really curious to see what people who actually know what they're talking about think about Simply Calligraphy!

Disclaimer: I received a complimentary copy of this book from the publisher through the Blogging For Books program in exchange for an honest review.