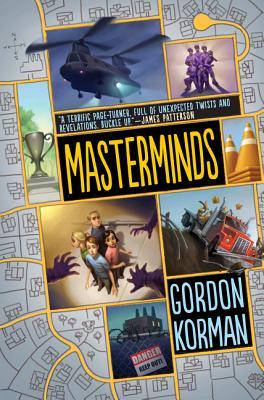 Click to view
on Goodreads
From bestselling author Gordon Korman comes a thrilling new middle grade trilogy about a group of kids living in a Pleasantville-type town who discover a dark secret that connects them to some of the greatest criminal masterminds of their time.
Eli Frieden lives in the most boring town in the world: Serenity, New Mexico. Only thirty kids live in the idyllic town, where every lawn is perfectly manicured and everyone has a pool and a basketball hoop. Honesty and kindness are the backbone of the community. There is no crime in this utopia.
Eli has never left town…. Why would he ever want to? But everything changes the day he and his friend Randy bike to the edge of the city limits. Eli is suddenly struck with a paralyzing headache and collapses. Almost instantly, a crew of security—or "Purple People Eaters," as the kids call them—descend via helicopter. Eli awakens in the hospital, and the next day, Randy and his family are gone. As Eli convinces his friends Tori and Malik to help him investigate Randy's disappearance, it becomes clear that nothing is as it seems in Serenity. As the clues mount to reveal a shocking discovery, the kids realize they can trust no one—least of all their own parents . . .
(336 pages)
I got all excited about
Masterminds
in January, when it came out, but somehow lost track of it before I ccould get my act together enough to find myself a copy. Four months after it came out, I was ambling around the library looking for good books to read on a road trip. I stopped by the Gordon Korman section for some old favorites, and snatched up
Masterminds
instead! I picked it up that evening and . . . well, let's just say
Masterminds
didn't make it to the roadtrip. There's a reason my blog is called "Read Till Dawn," okay?
The minute I first read the teaser for
Masterminds,
I had all sorts of predictions for what would happen. I drew an immediate parallel to Margaret Peterson Haddix's
Running Out of Time,
which also revolves around a secluded city that turns out to have many secrets - many of which the parents were keeping from their children. That comparison holds largely true after finishing the novel, but there are actually a few other books that
Masterminds
reminds me of: Margaret Peterson Haddix's
Escape From Memory
, plus another Margaret Peterson Haddix that I can't name for fear of spoiling the plot twist and several of Korman's other books. The plot is very reminiscent of some of my favorite Haddix books, which means both that I loved it and that I had seen almost all of it before. The characters felt like combinations of Korman's other characters, most especially Amber (a slightly less likeable version of Rachel from
No More Dead Dogs
- link goes to my review) and Tori (whose innate climbing skills harken back to Pitch from the
Swindle
series), though as a whole they are unique enough to feel separate from earlier characters.
If I had read this book five years ago I would have adored it to pieces. Reading it now, the whole thing felt like one big rehash of a bunch of other books (see paragraph #2!). It's a matter of exposure: I've already been exposed to almost all of the themes and twists that dominated Masterminds. If I had read it first before reading the other books, then those would have been the books that seemed a little repetitive. But I'll be completely honest: even with all of its predictability, I still kind of adored Masterminds. It's exciting, it's grabbing, it's got drama and mental gymnastics and deception and identity crises. There's a reason I've read so many books with themes that parallel Masterminds, and it's not because I didn't like them.
To find a book that combines so many of my favorite plot points was pretty awesome, and to find one written by one of the best authors I know was just about perfect. I will be highly recommending Masterminds to anyone who seems like a good fit for it, plus a few who probably wouldn't be very good fits. I will also be keeping an eye out for the sequels - and this time, I won't wait four months to track down a copy!