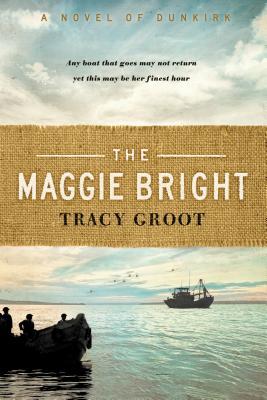 Click to view
on Goodreads
"England, 1940." Clare Childs knew life would change when she unexpectedly inherited the "Maggie Bright"--a noble fifty-two-foot yacht. In fact, she's counting on it. But the boat harbors secrets. When a stranger arrives, searching for documents hidden onboard, Clare is pulled into a Scotland Yard investigation that could shed light on Hitler's darkest schemes and prompt America to action. Across the Channel, Hitler's "Blitzkrieg" has the entire British army in retreat with little hope for rescue at the shallow beaches of Dunkirk. With time running out, Churchill recruits civilian watercraft to help. Hitler is attacking from land, air, and sea, and any boat that goes might not return. Yet Clare knows "Maggie Bright" must answer the call--piloted by an American who has refused to join the war effort until now and a detective with a very personal motive for exposing the truth.The fate of the war hinges on this rescue. While two men join the desperate fight, a nation prays for a miracle.
(360 pages)
Oof. The Maggie Bright book deals with a lot of heavy topics. I mean, WWII isn't known for being a light or happy period in human history, but sometimes books set during that period focus on the homefront and on happier parts of the story. I don't think I'd ever read a book with such a focus on the beaches of Dunkirk. I also hadn't read a book that painted such a bleak picture of the war effort before America joined in. There are some snide comments made throughout the book about isolationist Americans, because even through the end of the book America has not decided to join the war yet. It's fascinating to read a book set in the thick of WWII before the tide had turned and our triumph was ensured. It's also really scary to see how close the Nazis came to winning everything.
The book takes a surprisingly dark angle on the Nazis as well. I mean, we all know that they were awful–that's not up for debate, of course–but a lot of book that are set more on the homefront don't really focus much on the enemy powers as much more than potential bombers. We get an intimate, horrible look into the atrocious acts committed by the Nazis throughout the book. I won't go too much into the circumstances because those would be spoilers, but suffice it to say that the main characters talk about the Nazi T4 program.
Anyway, moving on to the book as entertainment rather than just as history. I liked it, I did, but I have to say that my main appreciation for the book comes from its historical insights rather than from the characters. Murray is definitely my favorite, and then Jamie and then probably Clare, but there were so many characters that things got rather confusing by the end. Everyone also had a chronic over-sharing problem: perfect strangers would walk up to each other, exchange some pleasantries, and then spill huge secrets to each other. The worst offenders were the two Scotland Yard agents who literally introduced themselves to Clare, invited her to coffee, and then told her big state secrets known only by a few (as well as a plethora of little personal details they surely should have been trained not to reveal to a complete stranger). Along the same vein as this ever-so-convenient openness, there's a dreadful case of insta-love in the book as well. Within the case of a single week and just a few encounters, Clare and a man she just met fall completely in love with each other. It's rather painful to watch.
Also, there's a whole side-plot with Clare's colorful family history, but we never even get to meet her oppresive uncle or learn anything important about her parents or watch her properly process something else she stumbles across over the course of the book. I would have really liked to see more in this area, because I liked what we got.
But really, though, I devoured The Maggie Bright because it's about a fascinating, and little-known, period of WWII. I lapped up the historical details and the new perspective on both the war as a whole and America's role in it, and I read anxiously to see what would happen to my favorite characters on every fresh page because I knew that so many real soldiers faced similar situations to theirs. It's a gripping story, even if parts are rather contrived, and I am glad I had the opportunity to read it.
Disclaimer: I received a complimentary copy of this novel from the publisher in exchange for an honest review.