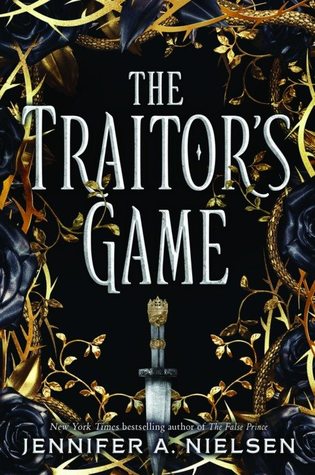 Click to view
on Goodreads
Nothing is as it seems in the kingdom of Antora. Kestra Dallisor has spent three years in exile in the Lava Fields, but that won't stop her from being drawn back into her father's palace politics. He's the right hand man of the cruel king, Lord Endrick, which makes Kestra a valuable bargaining chip. A group of rebels knows this all too well -- and they snatch Kestra from her carriage as she reluctantly travels home.

The kidnappers want her to retrieve the lost Olden Blade, the only object that can destroy the immortal king, but Kestra is not the obedient captive they expected. Simon, one of her kidnappers, will have his hands full as Kestra tries to foil their plot, by force, cunning, or any means necessary. As motives shift and secrets emerge, both will have to decide what -- and who -- it is they're fighting for.
(400 pages)
Any of you who have followed this blog for long know that I am obsessed with Jennifer Nielsen's books. I've been snapping them up since
The False Prince
first came out, and I've loved all the series and standalones she's produced since then (especially
A Night Divided
!).
In some ways,
The Traitor's Game
is fairly similar to Nielsen's earlier works. She is clearly fascinated by royalty/nobility, unwanted arranged marriages, and unfortunate predicaments brought on by circumstances outside the main characters' control. All of these elements have been in at least one of her earlier works, and make appearances again in
The Traitor's Game.
I can also see personality similarities between Kestra, the main character of
The Traitor's Game,
and Jaron from the Ascendance trilogy and Nic from the Praetor Wars series, though my understanding (which is, granted, limited by only having the first book so far) is that Kestra has more brute-force cunning and self-control than Nic, but that she doesn't have the sheer genius that made Jaron's plots always seem so perfectly, and effortlessly, planned out months in advance; she does make cunning choices at times, but it's clear that she is struggling to figure out what she should do as she goes along and that her deceptions are thus much more sponatenous than many of Jaron's.
Did I love
The Traitor's Game
as much as I love Nielsen's earlier works? Absolutely. In fact, I'd rank it right up there: behind
The False Prince
(because nothing can beat my first love!)
,
tied with
The Scourge,
and right ahead of the Praetor Wars. That's right, I ranked it higher than
the Praetor Wars
. Why? Mainly because of the romance. I always thought that writing romance was Nielsen's one weak spot–I could never really believe the romance between the main character and their love interest because it seemed like they would just look at each other a couple times and then suddenly they were supposed to be suppressing deep feelings for each other. In
The Traitor's Game,
however, that insta-love vibe was much milder. Things do progress pretty quickly between the main characters (which I struggled with at first, when Simon had
so many
reasons to hate her), but I grew to love both of them and their beautiful mess of a relationship as the book went on; the romance scenes were done very believably. I think having the narration switch between both Kestra and Simon, showing both of their outlooks, helped quite a bit with this.
Before I end on a positive, I do want to address the only real downside to the book (besides the occasionally cringy romantic subplot): it felt, in parts, like I'd read the book before. A large part of this might just be that I'm very familiar with Nielsen's work and writing style, but I think that the book also borrows quite a few tropes and plot twists from other stories in the genre. I don't think this is necessarily a bad thing, in fact I think the whole series could turn out to be an awesome riff on
The Sword in the Stone,
but I suppose the whole "medieval-type quasi-magical war-torn kingdom with a princess who doesn't know the truth about herself" storyline has been done so many different times that it can never feel completely fresh.
But that's the beauty of a Jennifer Nielsen book: it can take something that's been done to death, like hidden princes or Roman heroes or life in East Berlin, and craft it so perfectly that it becomes one of the best in the genre. And that's what she has done again.
The Traitor's Game
is such a gripping, intense read that I couldn't put it down: I literally stayed up until 2:30 am to finish it the night it arrived. I
had
to know what happened at the end of the book–and I can't go into details, but I absolutely love it. The plotting was awesome because it went through the usual rising action, climax, denouement . . . and then it just kept going, when I was sad because it felt like it was about to end, through a second climax and into a satisfactory, if frustratingly awesome, ending. The set-up for the sequel is amazing, and I simply can't wait to see where things go from here. I don't know how I'll wait all the time until the next book in the series comes out!
Disclaimer: I received an unsolicited ARC of this novel from the publisher in exchange for an honest review.