Okay, so for those of you who are new to this meme, here's how it works:
Teaser Tuesdays is a weekly bookish meme, hosted by MizB of A Daily Rhythm. Anyone can play along! Just do the following:
• Share two (2) "teaser" sentences from somewhere on that page
• BE CAREFUL NOT TO INCLUDE SPOILERS! (make sure that what you share doesn't give too much away! You don't want to ruin the book for others!)
• Share the title & author, too, so that other TT participants can add the book to their TBR Lists if they like your teasers!
My current read is Turnabout by Margaret Peterson Haddix.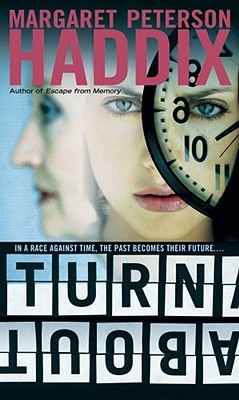 In the year 2000 Melly and Anny Beth had reached the peak of old age and were ready to die. But when offered the chance to be young again by participating in a top-secret experiment called Project Turnabout, they agreed. Miraculously, the experiment worked -- Melly and Anny Beth were actually growing younger every year. But when they learned that the final treatment would be deadly, they ran for their lives.
Now it is 2085. Melly and Anny Beth are teenagers. They have no idea what will happen when they hit age zero, but they do know they will soon be too young to take care of themselves. They need to find someone to help them before time runs out, once and for all....
(240 pages)


Here's this week's teaser, from page 132:
Sad was such an old-fashioned word. Nobody in the twenty-first century was ever sad - they were depressed, emotionally unbalanced, incorrectly medicated. Sorrow was a disease that everyone rushed to cure.
Let me know what you think of the book, and check back on Friday for my review!