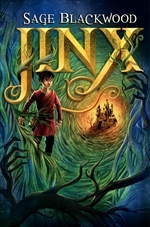 Click to view
on Goodreads
In the Urwald, you don't step off the path. Trolls, werewolves, and butter-churn riding witches lurk amid the clawing branches, eager to swoop up the unwary. Jinx has always feared leaving the path—then he meets the wizard Simon Magus.
Jinx knows that wizards are evil. But Simon's kitchen is cozy, and he seems cranky rather than wicked. Staying with him appears to be Jinx's safest, and perhaps only, option. As Jinx's curiosity about magic grows, he learns to listen to the trees as closely as he does to Simon's unusual visitors. The more Jinx discovers, the more determined he becomes to explore beyond the security of well-trod paths. But in the Urwald, a little healthy fear is never out of place, for magic—and magicians—can be as dangerous as the forest, and soon Jinx must decide which is the greater threat.
Sage Blackwood introduces a daring new hero for an innovative new world as Jinx is joined by friends, battles enemies, and discovers life beyond—and even within—the forest is more complex than he can imagine, and that the Urwald itself needs him more than he could ever guess.
(368 pages)

Now this is a book that I so totally regret not reading sooner.

I mean, seriously. I read all those rave reviews on Goodreads when it first came out, but it just sort of slid under my radar. Yay to my new library, though, because it was sitting on a shelf right at my eye-level! I snapped it up and brought it home, and read it in a grand total of two hours - I know, I'm a hopeless speed-reader. But to be fair, this was a really awesome book and I just couldn't put it down.

It reminds me of a lot of different book series I've read, in the best possible way. I can't go into all of the similarities (both because that would take forever, and because then I'd pretty much spoil the entire book), but here are some of the series it particularly reminded me of: the Magic Thief series by Sarah Prineas, the Trelian books by Michelle Knudson, the Half Upon a Time trilogy by James Riley, and the Enchanted Forest Chronicles by Patricia C. Wrede. You'd think, with all this similarity to other series, that the Jinx books would have been dry and cliche - they weren't, though. Blackwood does a marvelous job of keeping everything fresh, inserting twists to the formula until the basic premise only feels comfortably familiar, rather than boring.

The wizard Simon is my favorite kind of character: he's all grumpy and mean on the surface, but then he's also kind to Jinx in ways that make you think he's actually really nice inside. He basically adopted Jinx as a six-year-old and "raised him" (if you can call it that when he had him keep house all those years). Jinx very obviously loves Simon very much, and while he never once refers to Simon as his father-figure throughout the entire trilogy, it's very clear that this is essentially how he perceives him. That's what makes Jinx struggle so much with what Simon does in Jinx, and why I honestly struggle with it as well. I can't talk about that, though, because of spoilers.

I love Jinx, too, even though he's a little bit more of a stock character in the first book. By the end of the trilogy, though, I love how he develops away from the usual underdog hero trope and, rather than turning into the charismatic heroes of many of the series I listed above, becomes very grumpy and blunt and awesome as he constantly loses his patience with people. It's hard to describe Jinx's personality development, but it's fantastic to read.

Basically, this is a really great book. I enjoyed the second and third Jinx books as well, but it's this first one that holds the true magic. Go on, check it out. If you're anything like me, you'll gobble it up in one sitting - and then immediately request both sequels.