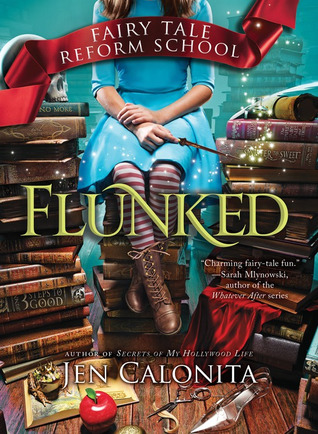 Click to view
on Goodreads
Would you send a villain to do a hero's job? An exciting new twisted fairy tale series from award-winning author Jen Calonita.
Full of regret, Cinderella's wicked stepmother, Flora, has founded the Fairy Tale Reform School with the mission of turning the wicked and criminally mischievous into upstanding members of Enchantasia.
Impish, sassy 12-year-old Gilly has a history of petty theft and she's not too sorry about it. When she lifts a hair clip, she gets tossed in reform school-for at least three months. But when she meets fellow students Jax and Kayla, she learns there's more to this school than its sweet mission. There's a battle brewing and she starts to wonder: can a villain really change?
(256 pages)
This book is so cool.
Honestly, that's all I really have to say about it. In yet another fairytale mashup world, this time we get to see what happens when the fairytales are over and the baddies are either reforming or on the run. Gilly's father was the one who fashioned Cinderella's classic glass slippers - which are in demand all over the kingdom - but Ella's fairy godmother rips off his designs and poofs the shoes up to sell herself. This means that the family is struggling to even stay fed, that Gilly's opinion of the royals is less than rosy, and that she has begun to steal from the obnoxiously wealthy in order to help her family get by.
Needless to say, Gilly eventually gets caught and sent to the "Fairy Tale Reform School" - so called because it's built to transform villains into heroes (or at least respectable citizens). It's a whole new world there, and Gilly finds herself hobnobbing with villains from all backgrounds and walks of life. There are trolls, fairies, mer-creatures - anything you can think of! And their crimes are as varied as their appearances. I just love that premise, don't you?
But it's not all about adjusting to cool new classes and getting along with the Snape-like Evil Queen from
Sleeping Beauty
(otherwise known as the school's therapy teacher). There are some big baddies out there who might just be threatening the school, and Gilly doesn't know what to do or who to trust. I don't want to give away too much of the story, but it's very engaging from start to finish. It might not be the all-time best book I've ever read, but it's definitely a great premise very well-realized and I'm excited to see how the characters and plotlines will be developed as the series continues.
If you like fairytale spin-offs, then I definitely recommend this one. It's meant for a slightly younger audience than, say, Jessica Day George's
Princesses of Westfalin
trilogy, but it's still a very engaging read. Definitely check it out if you get the chance - and let me know what you think!