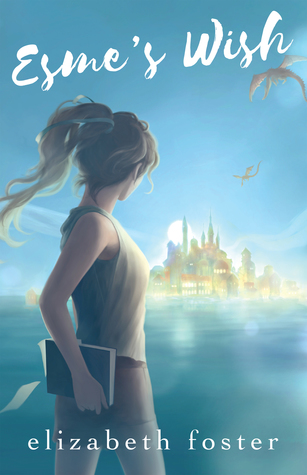 Click to view
on Goodreads
When fifteen-year-old Esme Silver objects at her father's wedding, her protest is dismissed as the action of a stubborn, selfish teenager. Everyone else has accepted the loss of Esme's mother, Ariane – so why can't she?

But Esme is suspicious. She is sure that others are covering up the real reason for her mother's disappearance – that 'lost at sea' is code for something more terrible, something she has a right to know.

After Esme is accidentally swept into the enchanted world of Aeolia, the truth begins to unfold. With her newfound friends, Daniel and Lillian, Esme retraces her mother's steps in the glittering canal city of Esperance, untangling the threads of Ariane's double life. But the more Esme discovers about her mother, the more she questions whether she really knew her at all.
(252 pages)
What a nice, cozy book to read at the start of my winter vacation. Esme's Wish features enough popular elements (girls with missing mothers, portals to secret magical lands, magic connected to water, special magical powers, a trio of friends, etc.) to feel familiar and cozy, but Foster somehow managed to combine them in a grabbing and interesting way. Once the story really got rolling, I never got bored or experienced deja-vu from other books. I was entranced.
One of my favorite aspects was the way Esme discovered more about her mother as the story went on: as new developments occurred in her investigation, not only did she gain an increasingly nuanced and complex understanding of who her mother was as a person (moving beyond the hazy memories of a cheerful and idealized mother she had clung to for so long), but she also gained new information about the fantastical world she had just discovered.
I have to say, though, that possibly my least favorite part of the book is the component that has to do with her life back in the "normal" world. There's one scene with her father which seems to show that he loved her mother, and still loves her, very much, but that doesn't negate the fact that he is marrying a Cinderella's stepmother-type woman who wishes Esme didn't exist. He then leaves on an extremely long honeymoon without even telling her that his new sister-in-law will be staying with her . . . and that new step-aunt then proceeds to tear down every familiar item in their entire house in order to do away with reminders of Esme's mother.
It's just . . . painful. Painful to read, and painful to imagine happening. I can't believe Esme's father is otherwise depicted as a loving man and a good husband in her memories/her mother's writings, because he seems quite selfish to me. But anyway, that's a relatively small component of this book so it's not a big drawback. And I'm actually looking forward to seeing how Foster expands on these characters in future books.
Because that's right, there are more Esme books on the way. And this is awesome news, because I can't wait to read them! Esme's Wish was a beautiful, fun book to read, and I can't wait to dive back into her world. In the meantime, if you're in the mood for a book like Esme's Wish, then by all means do give it a try–and comment below to let us know what you think!
Disclaimer: I received a complimentary copy of this book from the author in exchange for an honest review.