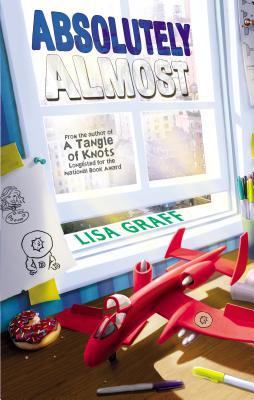 Click to view
on Goodreads
From the author of the National Book Award nominee A TANGLE OF KNOTS comes an inspiring novel about figuring out who you are and doing what you love.
Albie has never been the smartest kid in his class. He has never been the tallest. Or the best at gym. Or the greatest artist. Or the most musical. In fact, Albie has a long list of the things he's not very good at. But then Albie gets a new babysitter, Calista, who helps him figure out all of the things he is good at and how he can take pride in himself.
A perfect companion to Lisa Graff's National Book Award-nominated A Tangle of Knots, this novel explores a similar theme in a realistic contemporary world where kids will easily be able to relate their own struggles to Albie's. Great for fans of Rebecca Stead's Liar and Spy, RJ Palacio's Wonder and Cynthia Lord's Rules.
(320 pages)
I've been sitting here for like fifteen minutes trying to start this review. The words I already wrote and deleted could fill a whole paragraph, and I have nothing to show for it. I don't usually have such a hard time getting into a review - most times, I just sit down and spout out a bunch of random thoughts and then go back and edit them into a coherent piece of writing. With this one, however, I am literally sitting here typing about blogger's block because I can't think what else to write. The words look good on the page, though (I'm finally getting a paragraph written!), and even if I wind up deleting this at least I'm finally getting the words flowing. [I kept this in, even though I thought I wouldn't, because it's part of my reaction to the book.]
I guess my blogger's block stems from my inability to connect with what Albie's going through. Usually, I can start right off the bat by recounting something from my own life that can segue into a discussion of the book. Hey, when I was neck-deep in Richard III research for my final English project I actually used a discussion of Richard III
to review Margaret Peterson Haddix's
Claim to Fame
(which, BTW, has nothing to do with ancient English kings from the Middle Ages). But this time, I honestly can't find anything to talk about. I've struggled with many things, from loneliness to melancholy, but I've never (and I'm really not trying to brag here) had any real trouble in school. I've
disliked
subjects, sure, but I've never been unable to
do
them. So when Albie is struggling to study for his spelling tests and can never get more than four out of ten words correct any given week, I feel his agony but I'm also just frustrated at the idea that he has to work so hard for such little results.
The metaphor that just popped into my head about the spelling tests is "having your hands tied," and I think it actually applies to the entire book. Albie's hands are tied when it comes to school, because no matter how hard he works he still can't do well. His hands are tied at home, because his father commands Albie to do well in school but never spends any time with him. Albie's hands are tied in his social life, because no matter how hard he tries he still doesn't understand what makes people tick. He honestly believes that the popular kids are nice to him because they like him (and not because his best friend's family just got their own reality TV show), and that his "uncool" friend with a dreadful stutter can become cool if she just follows his tips for being popular (tips such as "Don't ever be last in the line to go to lunch" and "Sing fake words to the songs during chorus").
Besides Albie, everyone's hands are tied in some way or other. His best friend, brand-new reality TV star, is hedged in on every side by camera crew and people wanting to be his friends for nothing more than the fame. Albie's mother's hands are tied because she desperately wants to help her son succeed . . . but is horrified that, by her way of measuring success, Albie keeps coming up short. Albie's babysitter Calista's hands are tied because her ways of helping Albie sometimes go against what his parents think is best for him. Even the
reader's
hands are tied, because Albie is narrating and he often doesn't pick up on things that should be fairly obvious. So when I, at least, read the book, I spent half the time wishing I could pass Albie notes about things. He gets so confused sometimes, and takes things at face value that obviously need to be evaluated more deeply, and it's frustrating to be unable to help him.
Absolutely Almost
frustrated me a lot, but that doesn't mean I didn't like it. I am glad I read it, and I'll be sure to recommend it to people I think who would like it, but I personally don't think I'll be rereading it or fangirling over it any time soon. It pulled me in, though, and made me think. And that's what really counts.