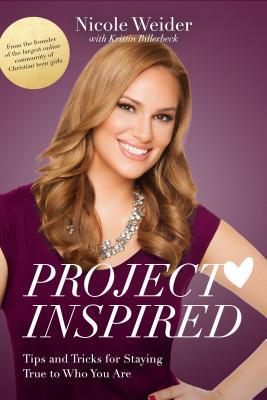 Click to view
on Goodreads
Nicole Weider is on a mission: to help young girls avoid the traps that culture sets. The trap that baits you into thinking you must sacrifice your self-worth in order to be beautiful and popular. Nicole launched Project Inspired in 2010 (www.projectinspired.com), a website for teen girls that analyzes pop culture and explores ways girls can live in their authentic beauty.
In Project Inspired, Nicole shares tips for you to stay true to yourself--to how you were created to be--as well as how to dress modestly yet fashionably, how to make a positive difference in the world, and how to enjoy your teen years while standing firm in your faith. With photographs, real behind-the-scenes stories from inside the fashion world, and an honest look at living a life that looks great on the outside and feels great on the inside, Project Inspired is a book you'll turn to time and time again.
(176 pages)

This isn't really what I was expecting. I requested it from a Christian book catalog, but the synopsis doesn't really sound that religious so I thought it was going to be mostly more general advice, not Christian-specific. That doesn't mean I'm not the target audience (after all, I am very much a Christian teenage girl!), but it does mean my blog isn't quite the target I thought it would be - I try not to stray too far into Christian books when I do my reviews, but oh, well. Non-Christian readers, just skip over this one, I guess.

Anyway, on the whole I really liked Nicole's tips. At times they seemed kind of random (and in the beginning I thought the entire book would be full of outfit tips!), but she makes a lot of great points. I can't say that all of the fashion terms really registered with me (what the heck is a "studded cross body" purse? And who actually worries about the oils in her hands being bad for her face?), but I think that's just because I'm not nearly as dressy as a lot of my peers. A few days after reading Project Inspired I was sorting through all of my clothes, getting rid of those that don't fit or that were too heavy for summer (yes, I waited until August to put aside my winter clothes). I found myself thinking about some of her tips as I considered what outfits I could make with the leftover clothes, and whether I needed to buy any more (the answer: yes. After getting rid of all the winter clothes, I have like ten tops, five skirts, and four pants. I put them all on hangars and they didn't even fill up my closet).

With the life and faith advice, I appreciated that Nicole was very nonjudgemental, and very focused on God's forgiveness. I didn't agree with her on a few points (for example, she believes gender roles are necessary in healthy relationships), but on the whole she had a lot of strong advice about staying pure, actively cultivating strong friendships, and looking for good boyfriends/husbands. I checked out her website very briefly, and found a lot of really great advice (and some I, again, was a little meh about) couched in very loving terms. I believe Nicole honestly has a passion for helping girls "enjoy [their] teen years while still standing firm in [their] faith."

So yeah. I might refer back to Project Inspired in the future for some clothing tips as I work on sprucing up my wardrobe, but I don't think I'll be frequenting the website with any regularity. I love the idea of it, though, and may check back now and then just to see what sort of things people are talking about. I don't know if I'd really recommend this to anyone, but I certainly wouldn't discourage anyone from reading it, either - and if one of my friends is interested by my copy, I'll probably just give it to her.

Disclaimer: I received a free copy of this book through the BookLook Bloggers program in exchange for an honest review.