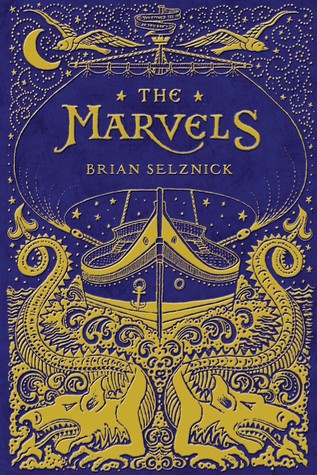 Click to view
on Goodreads
Caldecott Award winner and bookmaking trailblazer Brian Selznick once again plays with the form he invented and takes readers on a voyage!Two seemingly unrelated stories--one in words, the other in pictures--come together. The illustrated story begins in 1766 with Billy Marvel, the lone survivor of a shipwreck, and charts the adventures of his family of actors over five generations. The prose story opens in 1990 and follows Joseph, who has run away from school to an estranged uncle's puzzling house in London, where he, along with the reader, must piece together many mysteries.
(672 pages; Release date September 15))
I absolutely adored Selznick's
The Invention of Hugo Cabret.
The way he combined text with gorgeous pictures awed me to no end, and I loved the (also gorgeous) movie
Hugo,
starring Asa Butterfield. I also read
Wonderstruck,
Selznick's second book using this combined medium, and really loved the story, the pictures, the way I got to see the world through the eyes of deaf kids . . . and pretty much everything else about the story as well!
The first half of
The Marvels
was everything I had hoped for and more in a new book from Brian Selznick: stunning pictures, a beautiful storyline, compelling characters, and the pure joy that comes from devouring a gorgeous story. My favorite sequences were the ones that showed time passing, like the four pictures showing Billy growing up. Selznick's drew Billy as a little kid learning how to work the curtains, then a few years later working them under supervision, then as an adolescent working them by himself, and then working them as an adult. It's really beautiful.
But then there was the text, and it wasn't so amazing. In the past I don't remember ever being very enamored with Selznick's prose, but it was intermingled with the pictures and didn't really stick out enough for me to really analyze it. Here in
The Marvels
it's forced to stand by itself, though, telling its own tale without the crutch of Selznick's beautiful pictures, and it really isn't up to the task. Even before the big reveals came, I was just kind of bored by the story. I never had any reason to
like
Joseph, and his uncle was kind of over-the-top strange about the house. I love a good mystery as well as the next person, but what on Earth am I supposed to make of the way Uncle Albert kept all of the rooms looking as though people from the 1700s had just stepped out, but were actively living in them? I was thinking along the lines of ghosts, time travel, and just plain insanity (on Albert's part), and the real explanation was pretty original but also pretty disappointing.
Partly because of homosexuality. And that's really all I'm going to say about that, because I don't want to spoil anything for people who are going to read the book. It's one thing to put that sort of material in a book for adults, but
The Marvels
is (according to my ARC, anyway) geared for ages 10 and up, and grades 5 and up. That makes it MG. This is not MG material. And I didn't like being blindsided by it so far into the book, without any previous warning. To be perfectly honest, though, I probably wouldn't have liked the ending anyway - it feels like there's a lot of build-up, between the mysterious story told in the first half and the pressing questions Joseph encounters in the second half, and then the explanation at the end is pretty . . . anticlimactic. I would have much preferred a more poetic, romantic ending to the - well, the explosion we wind up getting.
So yeah. I highly recommend the first half of this book, and I very much don't recommend the second half to anyone. So unless you're going to get the book and only read the first half (which is, actually, completely reasonable - that's what I would have chosen to do, if I'd known what I do now in advance), I say just don't read it. And I'm sad to discourage people from reading a book with Selznick's amazing pictures, but I just can't encourage anyone to read the second half of
The Marvels.
Disclaimer: I received a free ARC of this book from the publisher in exchange for an honest review.