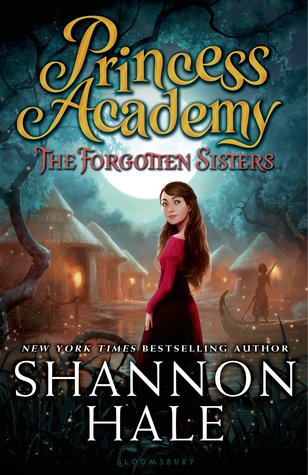 Click to view
on Goodreads
After a year at the king's palace, Miri has learned all about being a proper princess. But the tables turn when the student must become the teacher!
Instead of returning to her beloved Mount Eskel, Miri is ordered to journey to a distant swamp and start a princess academy for three sisters, cousins of the royal family. Unfortunately, Astrid, Felissa, and Sus are more interested in hunting and fishing than becoming princesses. As Miri spends more time with the sisters, she realizes the king and queen's interest in them hides a long-buried secret. She must rely on her own strength and intelligence to unravel the mystery, protect the girls, complete her assignment, and finally make her way home.
(323 pages)
This is the second of the two books I won from
Bookshop Talk's
giveaway in early March. When I was picking out my books, I immediately knew I had to get
The Forgotten Sisters
because my library doesn't have it. I mean, what kind of library doesn't get the third book in an extremely successful/popular trilogy? I swear the people who run my library don't even read.
Anyway, I just finished this third and final entry into the Princess Academy trilogy with a smile on my face! I've been reading these books for a long time (for about as long as I've been able to read, actually), so finishing the trilogy is rather bittersweet for me. On one hand, I'm very relieved that things ended on a high note - both in terms of the story and of the quality of the book itself. I was deathly afraid that it would turn out to be just a cheap knock-off of the first book, but instead I found that it brought the story arc through a beautiful full circle, until everything and everyone was brought back to where they began.
While I can't say that the plotting is air-tight and fast-paced (because it's not), I can say that this isn't really a high stakes thrill read that requires such careful plotting. It's a book that was meant to have a slower pace, so you can enjoy it more thoroughly than if you sped-read through the whole thing on tenderhooks. There is danger aplenty, and worries galore, but it is at its core a book about brains, not brawn. It''s one final adventure with our beloved characters, a last hurrah of sorts that gives us a final chance to admire their bravery and intelligence before seeing them get their happily ever after.
While this may be one reason for the final book, the novel still offers up a compelling story of its own. Miri must learn to survive in the swamp, adapting to a new world all over again as she moves from the capital city Asland to this swamp in Lesser Alva. The threat of war with the kingdom Stora hangs over Miri and later the girls. The king of Stora is a thrice-wed seventy year old. How can one of these spirited young women tie themselves to such a man in a loveless marriage? Yet if they don't, peace will fail and thousands will be slaughtered in the war between the two kingdoms. It's a huge quandary, and I have to say I love the way it was resolved (sorry, no spoilers!).
At the end of the day, this is a good book. If you've read the first and/or second book, then please pick up The Forgotten Sisters and read its engaging tale for its own sake, as well as the closure it brings to the series. If you haven't read Princess Academy, then go read it! Right now! It's an amazing book, even as a stand-alone. Please don't read this book first, though, because it just won't be nearly as interesting without all the backstory you can only get by reading the earlier books.
The Forgotten Sisters
is a great book, and I'm glad to have read it. I'm also extremely glad that I own it, so I can re-read it whenever I want! I know I'll definitely be revisiting this one soon, and I hope you enjoy it as much as I did.
Edit 6/1/15: Click to check out
my review of the first Princess Academy book
.