It's time for another Top Ten Tuesday, hosted by The Broke and the Bookish. This week's prompt asks what childhood favorites I'd love to re-read. It was a bit hard to think of ten (because I still read many of the books I discovered as a child, not because I didn't read back then!), so I just did seven.
1. The Chronicles of Narnia by C.S. Lewis
Synopsis of
The Lion, the Witch, and the Wardrobe:
When Peter, Susan, Edmund and Lucy took their first steps into the world behind the magic wardrobe, little do they realise what adventures are about to unfold. And as the story of Narnia begins to unfold, so to does a classic tale that has enchanted readers of all ages for over half a century.
These were the first books I ever read. And I mean this literally! I went straight from
Dick and Jane
to
The Lion, the Witch, and the Wardrobe.
My mom was reading them to me and I got impatient waiting to find out what would happen next, so I picked it up and started reading. I haven't read them in years, but it seems like every time I turn around I bump into a copy of one or another of the books, so I'm definitely planning on re-reading these soon!
2. Princess Academy by Shannon Hale
Synopsis of
Princess Academy:
Miri lives on a mountain where, for generations, her ancestors have quarried stone and lived a simple life. Then word comes that the king's priests have divined her small village the home of the future princess. In a year's time, the prince himself will come and choose his bride from among the girls of the village. The king's ministers set up an academy on the mountain, and every teenage girl must attend and learn how to become a princess.
Miri soon finds herself confronted with a harsh academy mistress, bitter competition among the girls, and her own conflicting desires to be chosen and win the heart of her childhood best friend. But when bandits seek out the academy to kidnap the future princess, Miri must rally the girls together and use a power unique to the mountain dwellers to save herself and her classmates.
I read this book long before it was part of a trilogy. It was my first real "princess" book, and I absolutely adored it. Still do, actually. And since the third book just came out a few weeks ago (click
here
for my review of The Forgotten Sisters), I've been dying to go back and revisit where it all began.
3. The Prydain Chronicles by Lloyd Alexander
Synopsis of
The Book of Three:
Taran wanted to be a hero, and looking after a pig wasn't exactly heroic, even though Hen Wen was an oracular pig. But the day that Hen Wen vanished, Taran was led into an enchanting and perilous world. With his band of followers, he confronted the Horned King and his terrible Cauldron-Born. These were the forces of evil, and only Hen Wen knew the secret of keeping the kingdom of Prydain safe from them. But who would find her first?
Ah, the memories. I love these books so much! They're like a shorter, easier-to-read version of Lord of the Rings. I loved them so much when I was little, and I would love to re-read them. I'd also love to get my siblings to read them - so far, no luck.
4. A Little Princess by Francess Hodgson Burnett
Sara Crewe's young but doting father sends her to a London boarding school when she is seven. On her eleventh birthday her life of luxury comes to an abrupt end when she receives news that her father has died, shortly after losing his entire fortune. The school-mistress turns Sara into a servant to pay off her debts, and though Sara uses the entire force of her imagination and her good heart to remember who she is and keep starvation from the door, her life is desperate. Until the past returns in a very unexpected manner...
Who doesn't love this book? I can't say it was a favorite when I was very small, but I definitely fell in love with it as soon as my parents thought to put it into my hands. Sometimes it's nice to go back to the simpler times when good and bad were black and white. This is one of the books that do that for me.
5. The Harry Potter books by J.K. Rowling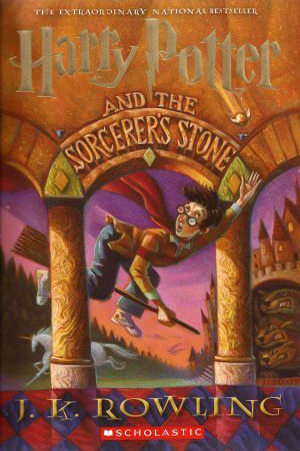 Synopsis of
The Sorcerer's Stone:
Harry Potter has never played a sport while flying on a broomstick. He's never worn a Cloak of Invisibility, befriended a giant, or helped hatch a dragon. All Harry knows is a miserable life with the Dursleys, his horrible aunt and uncle, and their abominable son, Dudley. Harry's room is a tiny cupboard under the stairs, and he hasn't had a birthday party in ten years.
But all that is about to change when a mysterious letter arrives by owl messenger: a letter with an invitation to a wonderful place he never dreamed existed. There he finds not only friends, aerial sports, and magic around every corner, but a great destiny that's been waiting for him... if Harry can survive the encounter.
Yes, I put this. I haven't re-read this series in . . . a year? Maybe two? I read the first book in Spanish but kind of lost my oomph a few chapters into the second one. Anyway, I read them for the first time when I was eight and I will never tire of re-reading them.
6. Tom Swift by Victor Appleton
Synopsis of
The City in the Stars:
Despite attempts to sabotage his newly-invented fusion drive spacecraft, a young scientist investigates the sinister, eminent head of the space colony who is hiding serious flaws in his own new craft.
You've never heard of these? Don't worry, no one else has, either. They were my dad's when he was a kid, so I initially read them because they were sitting in a really intriguing-looking milk crate (little me says "What's a milk crate?"). I kept them on my bookshelf for years because they're the kind of book

7. The Enchanted Wood by Enid Blyton
Jo, Bessie and Fanny move to the country and find Enchanted Wood right on their doorstep! And in the wood stands the magic Faraway Tree where the Saucepan Man, Moon-Face and Silky the elf live. Together they visit the strange lands which lie at the top of the tree, and have the most exciting adventures - and narrow escapes!

My parents bought this for me when we lived in Switzerland (a very long time ago). I grew up completely enamored with the folk of the Faraway Tree, and to this day the name "Moon Face" will make me break out in a smile.


What were your childhood favorites? Let me know in the comments section below!