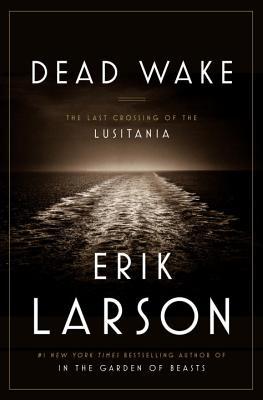 Click to view
on Goodreads
On May 1, 1915, with WWI entering its tenth month, a luxury ocean liner as richly appointed as an English country house sailed out of New York, bound for Liverpool, carrying a record number of children and infants. The passengers were surprisingly at ease, even though Germany had declared the seas around Britain to be a war zone. For months, German U-boats had brought terror to the North Atlantic. But the Lusitania was one of the era's great transatlantic "Greyhounds"—the fastest liner then in service—and her captain, William Thomas Turner, placed tremendous faith in the gentlemanly strictures of warfare that for a century had kept civilian ships safe from attack.
Germany, however, was determined to change the rules of the game, and Walther Schwieger, the captain of Unterseeboot-20, was happy to oblige. Meanwhile, an ultra-secret British intelligence unit tracked Schwieger's U-boat, but told no one. As U-20 and the Lusitania made their way toward Liverpool, an array of forces both grand and achingly small—hubris, a chance fog, a closely guarded secret, and more—all converged to produce one of the great disasters of history.
It is a story that many of us think we know but don't, and Erik Larson tells it thrillingly, switching between hunter and hunted while painting a larger portrait of America at the height of the Progressive Era. Full of glamour and suspense, Dead Wake brings to life a cast of evocative characters, from famed Boston bookseller Charles Lauriat to pioneering female architect Theodate Pope to President Woodrow Wilson, a man lost to grief, dreading the widening war but also captivated by the prospect of new love.
Gripping and important, Dead Wake captures the sheer drama and emotional power of a disaster whose intimate details and true meaning have long been obscured by history.
(430 pages)
I've just read three disturbing historical novels in the past three days, and I am most definitely reeling right now. It started with Laurie Halse Anderson's
Fever,
a historical fiction novel about a plague of yellow fever in Philadelphia; then I re-read Margaret Peterson Haddix's devastating
Uprising,
which is all about three fictional girls (two of whom die gruesome deaths by the end) and the Triangle Shirtwaist Factory fire. And now there's
Dead Wake,
which is the most devastating of all because it both focuses on such a huge calamity (two thousand dead!) and describes in painfully exquisite detail the deaths of actual people.
I just . . . ugh. I can't believe I went through a
Titanic
obsession a few years ago. How could I derive any sort of enjoyment from analyzing the horrible, traumatic deaths of so many people? Somehow with this book - which I thought I'd enjoy because I used to like studying the
Titanic
- I see now the true horror of these maritime disasters in a way that I never did with the
Titanic.
The macabre picture Larson paints is just too sick for words, and I really don't even want to think about it.
This is a review, though, so I can't just stop there. I'm going to move away from the actual disaster, which takes place in just the final third of the work, and talk about the book as a whole.
Before now, I would have said that only two nonfiction books stuck completely with the facts and still read like fictional novels. One of these is Candace Fleming's
The Family Romanov,
a vivid depiction of the last Romanovs drawn from a variety of firsthand accounts and intimate photos; the other is Walter Lord's classic account of the sinking of the
Titanic,
titled
A Night to Remember.
Both of these books are amazing, and are the first titles I suggest whenever people ask me for titles on either of those topics. Now I must add
Dead Wake
to this list, because it is the most stunningly intimate and up-front look you're ever going to get at the
Lusitania
disaster. You read about the passengers themselves, of course, but you also get to read a little bit about the politics at play behind the scenes; about the British government decoders who knew the general whereabouts of German submarines near the
Lusitania
but mysteriously neglected to warn anyone; about the rules Germans had for their submarine captains (basically "shoot whatever ships you want, and we'll track your success by measuring how many tons you sink); about Schwieger, the "kind-hearted" submarine captain who once rescued a dog from a ship's wreckage but saved none of the
Lusitania
passengers.
I can't speak for Larson's historical accuracy, because this is the first book I've ever read about the sinking of the
Lusitania.
I usually don't read about man-made disasters, because it upsets me so much to see the pain we inflict on each other. Having read many historical nonfiction books in the past, though, this certainly reads like an excellently-researched book - it seems that Larson has done a
lot
of legwork, and it's obvious from the four-page bibliography (and 25-page Notes section!) that he did a very thorough job with his sources; it didn't all just come straight off of Wikipedia. In the author's note in the back, Larson even talks about how he was very careful to trace every historical claim back to its origins to make sure he used only facts in his account and not just commonly-repeated lies. I for one am more than satisfied, and only the true history buffs are possibly going to be able to poke holes in Larson's interpretation of the event.
At the end of the day, though, forget the squabbles over minor historical details - I'm just left gaping in shock at how terribly cruel humans can be to each other. I shudder at the descriptions that aren't leaving my head any time soon, at the pictures of small children's corpses that I saw when I idiotically typed "Lusitania victims" into Google Images (hint: don't do that).
Dead Wake
is a stunningly evocative book, and I'm warning you now: only read it if you have the stomach for a front-row look at such a terrible tragedy.
Disclaimer: I received a complimentary copy of this book through the Blogging for Books program in exchange for an honest review.