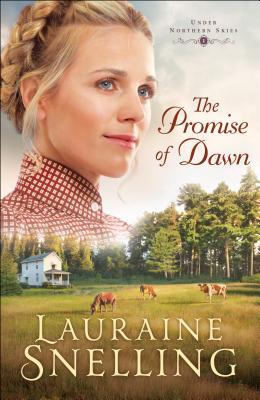 Click to view
on Goodreads
When Signe, her husband, Rune, and their three boys arrive in Minnesota from Norway to help a relative clear his land of lumber, they dream of owning their own farm and building a life in the New World. But Uncle Einar and Aunt Gird are hard, demanding people, and Signe and her family soon find themselves worked nearly to the bone in order to repay the cost of their voyage. At this rate, they will never have land or a life of their own.

Signe tries to trust God but struggles with anger and bitterness. She has left behind the only life she knew, and while it wasn't an easy life, it wasn't as hard as what she now faces. When a new addition to the family arrives, Signe begins to see how God has been watching over them throughout their ordeal. But after all that has happened, can she still believe in the promise of a bright future?
(276 pages)
Going into reading
The Promise of Dawn,
I didn't really have a good idea what it would be like. I won it in a giveaway on LibraryThing, and when I entered I'd just kind of assumed it was one of those fluffy Christian romantic historical fictions. I thought it would be kind of meh, but still entertaining, so I took the two seconds to click "Request It."
It turns out that
The Promise of Dawn
is a lot more serious than I originally expected, and it's not really a romance novel since the main characters are already married with three sons old enough to work for Uncle Einar. It is indeed a Christian novel, though, but the religion in the book is not as cloying as it is in most from the genre. And it is definitely a historical fiction story–which is what I loved best about it!
You see, I'm nearly 1/2 Swedish by descent. My great-grandfather and his family moved from Sweden to Nebraska around the same time Signe and Rune's family move from Norway to Minnesota, so it's easy for me to read about this family's fictional struggles on the American frontier and imagine my own ancestors into their place. True, my great-grandfather was a farmer in a tree-less state while Uncle Einar is a tree logger, but that's small potatoes. The comparison is still real to me.
Plus, I actually really liked watching Signe fight to bring orderliness and civility into a house that was truly disgusting when she first arrived. Gird is bed-ridden, miserable, and miserly when they arrive; Einar is curt, unpleasant, and solely focused on his tree-logging endeavors to the point of abandoning everything (and everyone) else. It's impossible not to cheer for Signe as she puts the house and farm to rights with the help of her two younger sons and begins the process of helping Gird regain her strength. I also loved watching the way her sons always obeyed her, even though they were growing big and tall and lived during a time when women weren't always given much respect. Seeing the give-and-take of Signe and Rune's relationship was also very satisfying. I also just really liked getting such a different angle on frontier life, focused on the individual struggles of the people making their lives on the frontier rather than on the more publicized "drama" of cowboys and Native American struggles/raids and the like. This is the authentic story of the West, because it's the story of the individual family.
Basically, if you're looking for an character-focused book about Scandinavians moving to the American frontier in the early twentieth century, then
The Promise of Dawn
fits the bill to a T. Let me know what you think if you read it!
Disclaimer: I received a complimentary copy of this novel through the BookLook Early Reviewers program.