Okay, so for those of you who are new to this meme, here's how it works:
Teaser Tuesdays is a weekly bookish meme, hosted by MizB of Should Be Reading. Anyone can play along! Just do the following:
• Share two (2) "teaser" sentences from somewhere on that page
• BE CAREFUL NOT TO INCLUDE SPOILERS! (make sure that what you share doesn't give too much away! You don't want to ruin the book for others!)
• Share the title & author, too, so that other TT participants can add the book to their TBR Lists if they like your teasers!
My current read is As You Wish: Inconceivable Tales From the Making of The Princess Bride by Cary Elwes, who plays Wesley in the classic movie The Princess Bride.
Synopsis (click the cover to check it out on Goodreads):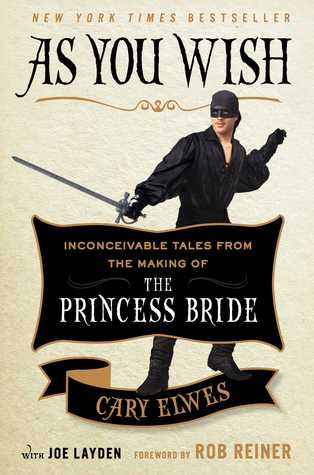 From actor Cary Elwes, who played the iconic role of Westley in
The Princess Bride
, comes a first-person account and behind-the-scenes look at the making of the cult classic film filled with never-before-told stories, exclusive photographs, and interviews with costars Robin Wright, Wallace Shawn, Billy Crystal, Christopher Guest, and Mandy Patinkin, as well as author and screenwriter William Goldman, producer Norman Lear, and director Rob Reiner.
The Princess Bride
has been a family favorite for close to three decades. Ranked by the American Film Institute as one of the top 100 Greatest Love Stories and by the Writers Guild of America as one of the top 100 screenplays of all time,
The Princess Bride
will continue to resonate with audiences for years to come.
Cary Elwes was inspired to share his memories and give fans an unprecedented look into the creation of the film while participating in the twenty-fifth anniversary cast reunion. In
As You Wish
he has created an enchanting experience; in addition to never-before seen photos and interviews with his fellow cast mates, there are plenty of set secrets, backstage stories, and answers to lingering questions about off-screen romances that have plagued fans for years!
With a foreword by Rob Reiner and a limited edition original poster by acclaimed artist Shepard Fairey,
As You Wish
is a must-have for all fans of this beloved film.
Here's this week's teaser:
Hello. My name is Inigo Montoya. You killed my father. Prepare to die.
What? That was in the book! Just because it's a quote from the movie doesn't mean it wasn't in the book. Anyway, there aren't many good original quotes in the book, because it's just talking about things that happened on set. It's a great book for any Princess Bride fan, though, let me tell you. Check back this Friday for my review!