So who's ready for a new meme? I know I am! I've been contemplating adding Top Ten Tuesdays to the blog for a while, and figured I'd give it a try. Let me know what you think, and if I should stick with it.
Top Ten Tuesdays is a meme hosted by The Broke and the Bookish in which they provide a prompt every Tuesday, and you make a Top Ten list about that topic. You get pretty much complete creative liberty to do whatever you want within the prompt, and don't even have to make a list of ten if your list is really more of a Top Fifteen or a Top Five.
So this week's topic is "
Top Ten Books I Can't Believe I Haven't/Want To Read From X Genre." I wanted to do either historical or science fiction, but I had so much fun browsing through my Goodreads shelves I knew I couldn't just limit it to a single type of fiction! So I'm making a Top Ten list of fictional books I haven't read, but want to.
1.
The Secret Under my Skin by Janet McNaughton
In the year 2368, humankind must struggle to survive under dire environmental conditions and strict government control. In this startling world, one brave young woman begins to unravel a web of lies about life on Earth that will empower her to discover, at last, who she really is. McNaughton vividly imagines an all-too-believable future and celebrates the impact that one person can make on the world.
How can this not be good? Wait, no, I know: insta-love and love triangles. If those pop up, I'm gone. Otherwise, this looks so cool I can't believe I haven't read it yet!
It looks a bit like Allegra Goodman's The Other Side of the Island.
2. Bella at Midnight by Diane Stanley
In the little village of Castle Down, in a kingdom plagued by war, lives a peasant girl called Bella. Blessed with a kind family and a loving friend, she manages to create her own small patch of sunlight in a dark and dangerous world. Bella is a blacksmith's daughter; her friend Julian is a prince -- yet neither seems to notice the great gulf that divides his world from hers.
Suddenly Bella's world collapses. First Julian betrays her. Then it is revealed that she is not the peasant she believed herself to be: She is Isabel, the daughter of a knight who abandoned her in infancy. Now he wants her back, so Bella is torn from her beloved foster family and sent to live with her deranged father and his resentful new wife. Soon Bella is caught up in a terrible plot that will change her life -- and the kingdom -- forever. With the help of her godmother and three enchanted gifts, she sets out on a journey in disguise that will lead her to a destiny far greater than any she could have imagined.
I love Stanley's Silver Bowl trilogy so, so much. Why haven't I read this other book by her? It looks so awesome! There's magic, royalty, friendship, love - That's it, I have to get my hands on a copy! Library, here I come.
3. Pennies for Hitler by Jackie French
It′s 1939, and for Georg, son of an English academic living in Germany, life is full of cream cakes and loving parents. It is also a time when his teacher measures the pupils′ heads to see which of them have the most ′Aryan′- shaped heads. But when a university graduation ceremony turns into a pro-Nazi demonstration, Georg is smuggled out of Germany to war-torn London and then across enemy seas to Australia where he must forget his past and who he is in order to survive.
Hatred is contagious, but Georg finds that kindness can be, too.
This is by the author of
Hitler's Daughter
, a short WWII book I first read many years ago. It really impacted me because it was the first WWII book I ever read, and because the plot was so cool to eight-year-old me. I've been meaning to read this companion novel for years but never really got around to it. One of these days, maybe I really will.
4. Goose Chase by Patrice Kindl
It starts when Alexandria, a poor, plain goose girl, offers her own bread and water to a hungry old woman-who just happens to be a witch in disguise. Poof! Alexandria is suddenly heartstoppingly beautiful. Her hair rains down gold dust, and the tears she sheds turn to diamonds. Soon a prince and a king are fighting for her hand, and they've locked her in a tower to keep her "safe." How Alexandria wishes she was a goose girl again! Clearly the only thing to do is escape-which is when her problems really begin! Patrice Kindl's inimitable voice and craft make this take on the classic fairy tale extraordinary-and extraordinarily hilarious.
This reminds me of the Gail Carson Levine fairytale retelling of The Goose Girl. It looks like so much fun, and right up my alley - I've got a huge thing for fairytale retellings.
5. The Wednesday Wars by Gary D. Schmidt
In this Newbery Honor-winning novel, Gary D. Schmidt offers an unforgettable antihero. The Wednesday Wars is a wonderfully witty and compelling story about a teenage boy's mishaps and adventures over the course of the 1967–68 school year in Long Island, New York.
Meet Holling Hoodhood, a seventh-grader at Camillo Junior High, who must spend Wednesday afternoons with his teacher, Mrs. Baker, while the rest of the class has religious instruction. Mrs. Baker doesn't like Holling—he's sure of it. Why else would she make him read the plays of William Shakespeare outside class? But everyone has bigger things to worry about, like Vietnam. His father wants Holling and his sister to be on their best behavior: the success of his business depends on it. But how can Holling stay out of trouble when he has so much to contend with? A bully demanding cream puffs; angry rats; and a baseball hero signing autographs the very same night Holling has to appear in a play in yellow tights! As fate sneaks up on him again and again, Holling finds Motivation—the Big M—in the most unexpected places and musters up the courage to embrace his destiny, in spite of himself.
This just looks fun, and way different from most Newberry Award-winning books (let's be honest, most of them are really boring/sad/both). I just discovered it recently, and I'm definitely looking forward to checking it out.
6. Revolution by Deborah Wiles
I
t's 1964, and Sunny's town is being invaded. Or at least that's what the adults of Greenwood, Mississippi, are saying. All Sunny knows is that people from up north are coming to help people register to vote. They're calling it Freedom Summer.
Meanwhile, Sunny can't help but feel like her house is being invaded, too. She has a new stepmother, a new brother, and a new sister crowding her life, giving her little room to breathe. And things get even trickier when Sunny and her brother are caught sneaking into the local swimming pool -- where they bump into a mystery boy whose life is going to become tangled up in theirs.
As she did in her groundbreaking documentary novel COUNTDOWN, award-winning author Deborah Wiles uses stories and images to tell the riveting story of a certain time and place -- and of kids who, in a world where everyone is choosing sides, must figure out how to stand up for themselves and fight for what's right.
This one looks grabbing, thought-provoking, and funny. I've seen a lot of positive reviews, so I've got high hopes for it!
7. Paperboy by Vince Vawter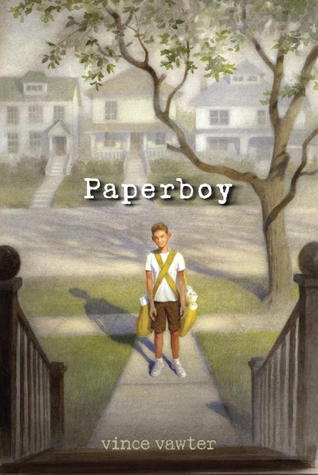 An 11-year-old boy living in Memphis in 1959 throws the meanest fastball in town, but talking is a whole different ball game. He can barely say a word without stuttering, not even his own name. So when he takes over his best friend's paper route for the month of July, he knows he'll be forced to communicate with the different customers, including a housewife who drinks too much and a retired merchant marine who seems to know just about everything.
The paper route poses challenges, but it's a run-in with the neighborhood junkman, a bully and thief, that stirs up real trouble--and puts the boy's life, as well as that of his family's devoted housekeeper, in danger.
Aw, doesn't this look good? I've been seeing it all over the place lately, which is why I knew I had to put it on this list. I've never had a speech impediment, but I like reading about people overcoming them. It's just so inspiring!
8. The Outcasts of 19 Schuyler Place by E.L. Konigsburg
"I Prefer Not To.... "
That's Margaret Rose Kane's response to every activity she's asked to participate in at the summer camp to which she's been exiled while her parents are in Peru. So Margaret Rose is delighted when her beloved uncles rescue her from Camp Talequa, with its uptight camp director and cruel cabinmates, and bring her to stay with them at their wonderful house at 19 Schuyler Place.
But Margaret Rose soon discovers that something is terribly wrong at 19 Schuyler Place. People in their newly gentrified neighborhood want to get rid of the three magnificent towers the uncles have spent forty-five years lovingly constructing of scrap metal and shards of glass and porcelain. Margaret Rose is outraged, and determined to strike a blow for art, for history, and for individuality...and no one is more surprised than Margaret Rose at the allies she finds for her mission.
This is an E.L. Konigsburg that looks really good, which I haven't read. How has this happened? I must fix this! Now!
9. The Sky Inside by Clare B. Dunkle
Martin lives in a perfect world.
Every year a new generation of genetically-engineered children is shipped out to meet their parents. Every spring the residents of his town take down the snow they've stuck to their windows and put up flowers. Every morning his family gathers around their television and votes, like everyone else, for whatever matter of national importance the president has on the table. Today, it is the color of his drapes. It's business as usual under the protective dome of suburb HM1.
And it's all about to come crashing down.
Because a stranger has come to take away all the little children, including Martin's sister, Cassie, and no one wants to talk about where she has gone. The way Martin sees it, he has a choice. He can remain in the dubious safety of HM1, with danger that no one wants to talk about lurking just beneath the surface, or he can actually break out of the suburb, into the mysterious land outside, rumored to be nothing but blowing sand for miles upon miles.
Acclaimed author Clare B. Dunkle has crafted a fresh and fast-paced science-fiction thriller, one that challenges her characters -- and her readers -- to look closer at the world they take for granted.
Grr, this one drives me crazy. It looks so good, but I can't get at it! My library doesn't have it (I checked - twice), and I don't want to buy it in case it's not as good as it looks. But it sure looks like it's pretty good.
10. Secondhand Charm by Julie Berry
In a secluded village, magic sparkles on the edges of the forest. There, a young girl named Evie possesses unusually strong powers as a healer. A gypsy's charms—no more than trinkets when worn by others—are remarkably potent when Evie ties them around her neck. Her talents, and charms, have not escaped the notice of the shy stonemason's apprentice. But Evie wants more than a quiet village and the boy next-door. When the young king's carriage arrives one day, and his footman has fallen ill, Evie might just get her chance after all . . .
Berry's debut novel garnered glowing reviews and strong sales—and now she's done it again with a beautifully woven tale to keep all readers, young and old, absolutely charmed.
It was the cover that first caught my attention and made me add it to my Goodreads TBR list, but it got buried by other books so fast that I completely forgot about it until I started making my list and dug it back out. I will definitely be reading this one soon.
Have you read any of the books on this list? If so, please let me know whether you liked it or not! Also, do you think I should continue this meme? Please tell me in the comments section below!